Assassin's Creed III: Liberation is an upcoming game for the PlayStation Vita, that is developed by Ubisoft Sofia. It is to be released alongside Assassin's Creed III on 30th of October, 2012.
The game is set between 1765 and 1780, and primarily features Aveline de Grandpré, a female French-African Assassin around the end of the French and Indian War.[1]
The game will take place in and around New Orleans and the Louisiana Bayou. The bayou with its swamp like surrounding will host many wild animals, such as the alligator, and other threats such as smugglers, making the bayou dangerous and trees a safer alternative for travelling through the area.[2]
It will include a variety of weapons from the previous installments, as well as a sugarcane machete, pistols, blowpipe, and grenades. Another modern day Assassin will be reliving the life of Aveline, instead of Desmond Miles.[3]
Liberation will also include multiplayer "specifically tailored to the Vita experience."[1] It will utilise cross-goods between itself and Assassin's Creed III on PlayStation 3, with linking the two titles unlocking Connor Kenway's tomahawk, an exclusive character skin, a multiplayer character and an upgrade in ammunition. This game will also be bundled with a special edition 'Crystal White PS Vita Wi-Fi' with 4 GB Memory card.[4]
Liberation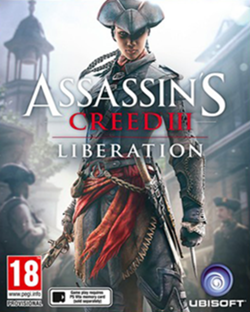 Developer(s)
Ubisoft Sofia
Publisher
Ubisoft
US release
30 October 2012
UK release
31 October 2012
Genre:
Historic action-adventure
Game modes:
Singleplayer, Multiplayer
ESRB rating:
RP (Rating Pending)
Platform(s):
PlayStation Vita
SOURCES:
Assassin's Creed Wiki